Boy, am I glad to see you.
This week took an unexpected turn for me when I woke up Monday morning feeling, to use the official medical lingo, like gently boiled garbage. My head was throbbing, I could barely keep my eyes open, and I was a touch short of breath, among other things. (And if you've known me for long, you know I rarely run low on hot air.)
A quick telemedicine visit later, and I was on my way to a drive-through nasal-assaulting test site to see if I had the dreaded 'VID or just a regular ol' run-of-the-mill bugaboo. Even with all the precautions we've been taking, my symptoms lined up enough to make it seem worth checking.
Thankfully, it turned out to be merely an average virus — not The Virus™. So despite still being a bit under the weather, I'm here, slowly but surely regaining energy, and more eager than ever to talk titillating tech with ya. (What can I say? I like you too much to stay away for long.)
And it's a good thing, too, 'cause we've got some zesty pandemic distractions to think through this week — everything from yet another confounding twist in Google's messaging service saga to some of my favorite time-saving tips for Google Calendar.
And don't worry: I promise to stay at least six virtual feet away so you won't catch my current cooties.
❱❱ The Big Idea
Google Meet's Messy Message
➜ THE SHORT VERSION: Just when you thought Google's mess of messaging services couldn't get any messier, oops: It did it again.
➜ KNOW MORE: You'd better believe it, buddy: Google has officially just out-Googled itself. At this point, no one — least of all Google — seems to have a clear and consistent understanding of what the hell its messaging services are meant to be right now. And when the company behind the products can't even present that kind of simple and easy-to-understand breakdown, how are we as users supposed to have any chance of deciphering it?
➜ READ MORE: Here's my full column, featuring the world's longest single-sentence overview of Google's messaging service mess (260 words and 1,622 characters, baby!).
❱❱ 3 Things to Know This Week
1. Your Chromebook could get a seriously significant life-extending update
➜ THE SHORT VERSION: Google appears to be working on a foundational change for Chrome OS that'd allow it to separate Chrome browser updates from Chrome OS operating system updates — and boy howdy, could that make a hefty difference.
➜ KNOW MORE: While Google just recently committed to giving Chromebooks longer lifespans in general, the platform is still limited by the fact that the regular Chrome browser is a part of the operating system on Chrome OS instead of being its own standalone application. And because of that, whenever a Chromebook stops getting operating system updates, it also stops getting browser updates — which tend to contain critical web-related security fixes and without which a laptop simply isn't advisable to use. So if Google manages to break out the browser from the operating system, a Chromebook could conceivably get those browser updates long after its OS updates have stopped. That'd create a much more sensible setup and eliminate the limited shelf life that's become one of Chrome OS's worst weaknesses.
➜ READ MORE: The gang from 9to5Google did the sleuthing to uncover this promising-sounding (and still very much under development) new system.
---
2. Android 11 will turn up your privacy protection even more than we realized
➜ THE SHORT VERSION: An unassuming new element in the latest Android 11 developer preview suggests Google's adding another new bit of privacy protection into the operating system — this one aimed at allowing you to automatically revoke an app's system-level permissions if the app goes unused for an extended period.
➜ KNOW MORE: We've talked before about how Android OS updates are important not only because of their surface-level elements but also because of the privacy, security, and performance enhancements they bring to your phone — areas that are often overlooked and underemphasized. Well, here's yet another illustration of that notion in action. I've said it before, and I'll say it again: Android updates matter. The really important stuff just isn't what usually gets the most attention.
➜ READ MORE: The XDA Developers website has a nice summary of all the little changes in this latest developer preview. And you can find a broader overview of Android 11's most important themes so far in this February column of mine.
---
3. The Pixel Buds are here — and either amazing or awful, depending on whom you ask
➜ THE SHORT VERSION: Google's first true wireless earbuds are officially on sale as of this week, and the early reviews paint a confusingly conflicted picture of the product's quality and worth.
➜ KNOW MORE: The take-home message here is simple: Earbuds are a personal accessory, and preferences are bound to vary wildly. To some people, being able to hear a little of the outside world while listening to audio is an incredible feature (Google itself went to great lengths to describe the engineering required to make that possible) — while to others, that's a device-ruining downside. Five hours of battery life with a case that provides a 24-hour top-off is plenty for some of us and insufficient for others. And apparently, having earbuds without goofy white stems is a genuine problem in certain demented minds. What we can say objectively is that Google's managed to create another product whose most interesting features are less about the physical form and more about the software smarts inside. And that alone makes the Pixel Buds worth watching, whether or not they end up being right for you.
➜ READ MORE: You can find a largely positive Pixel Bud review at Android Central, a scathingly negative take at Android Police, and a relatively balanced middle-of-the-road assessment at The Verge, if you want to digest all the perspectives and come to your own conclusion. For more about the Pixel Buds' software-driven prowess, see this official Google announcement and this forward-looking peek at some possible future features.
Give yourself the gift of knowledge.
Psst: This newsletter is only scratching the surface of what Android Intelligence has become. As part of this humble little operation of mine, I now send out three premium, ad-free publications every week — including a new subject-specific guidebook every Monday that's designed to help you get even more out of your favorite devices. Recent subjects have included everything from advanced Android status bar improvements to game-changing Chrome enhancements and hassle-busting apps you almost certainly aren't using.
It's all part of my Android Intelligence Platinum membership program — a next-level resource package that gives you all three premium publications along with access to my members-only Q&A forum and all sorts of other useful info. And it costs a mere five bucks a month, every penny of which goes toward helping me do this as a fully independent, single-person operation.
Come check it out and see whatcha think. Your support means the world:
❱❱ 3 Things to Try This Week
1. Start using some of Calendar's tucked-away time-savers
Google Calendar is one of those services you use constantly but only actively think about once in a great while. It's just your agenda, after all. You put in appointments and get reminded when one's coming up. What more is there to do?
Turns out, a lot. Calendar's flooded with supremely useful shortcuts and advanced features that can save you time and make your life easier. But the best of its treasures are tucked away out of sight, and it's up to you to find 'em.
I'm here to help. In my latest Fast Company collection, I dug deep to find some truly awesome time-savers hidden in Calendar's dustiest corners. A couple of my favorite discoveries:
When you're creating a new Calendar event on the web, have you ever noticed how you can't use the standard Ctrl-Enter shortcut to save it? That drives me nuts. But I learned (by accident!) that Calendar has its own custom shortcut for that same function: Hit Ctrl-S instead of Ctrl-Enter, and your event will be saved — no mouse-clicking or finger-moving required. Huzzah!
Another Calendar-specific shortcut I constantly forget to take advantage of is the simple letter "g." Press "g" from any calendar view, and the website will pop up a quick-jump box. You can then type any date you want into it — using either a standard date format ("4/13/06") or a plain-text description ("April 13, 2006") — and bam: You'll be zapped over to your agenda for that date in the blink of an eye.
Last but not least, here's an extra little newsletter-exclusive bonus just for you, my favorite inbox amigo: Tip #10 in the story talks about Calendar's optional world time clock feature, which is well worth enabling. (You just head into the Calendar website's settings and look for the "World clock" option; once you check it, you can pick whatever time zones or locations you want to include — and then you'll see a nifty little widget showing the current time for all those areas in the site's sidebar.) That world clock actually has a second function, though: In addition to showing you the current time in all the different areas you select, it can show you what time a specific event in your agenda will begin in every one of those time zones.
Once you have the clock enabled, just click on any date in your calendar and then glance over at the widget. And hey, how 'bout that? The clock quietly updates itself to show the start time of your event in each of your selected cities.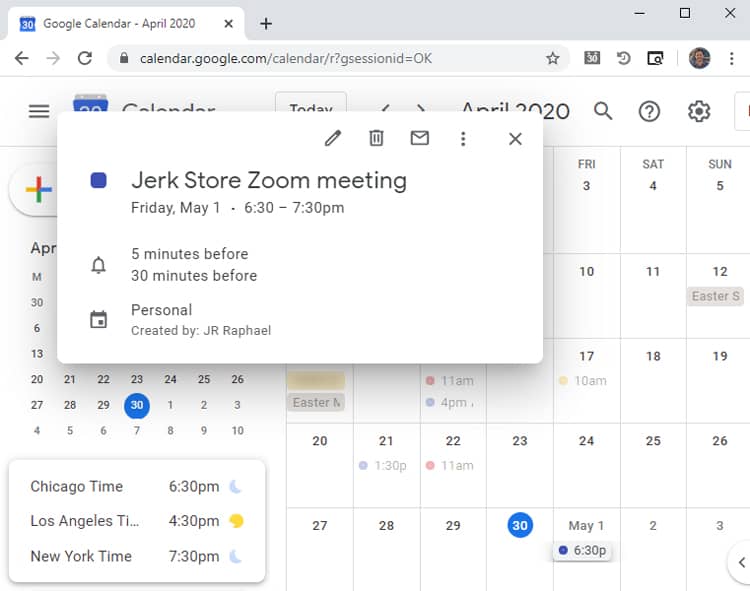 Pretty forkin' handy, I say.
---
2. Find what's in stock at local stores from your phone
All right, next up is a semi-random Android app you've probably never heard of nor realized you needed. It's called OurStreets, and its name tells you nothing about its newfound purpose for these funky times of ours.
OurStreets, y'see, was originally designed as a way for walkers and bikers to report drivers who aren't respecting the rules of the road. But with the current COVID crisis and all of its strange new challenges, the app made a smart pivot and started encouraging its users to report stock levels of tough-to-find supplies at specific stores.
All you do is either find and select a store near you or use the app's one-touch filter system to select the sort of supply you're seeking — soap, sanitizer, disinfecting wipes, eggs, or whatever the case may be — and just like that, the app will show you all the reports it has from folks in your area about what's actually available nearby.
The catch, of course, is that the whole concept depends upon users reporting stuff in order to function. So it works better in some cities than others and may or may not be of much help for your specific locale.
It's worth at the very least giving a whirl, though, and maybe then watching to see how it develops as word starts to spread.
---
3. Take your Android minimalism to the max
In last week's newsletter, we talked about simple steps you could take to give yourself a more minimalist and efficient email experience in Gmail. Well, guess what? That same concept of emphasizing elements you use the most while minimizing unnecessary clutter can also make a world of difference on your phone.
I'm constantly thinking about ways to bring a more minimalist mentality into Android — to eliminate extraneous stuff and make the environment as uncluttered as possible. Aesthetic appeal aside, that sort of setup makes it meaningfully easier to find what you actually need without having to wade through endless visual distractions.
So coming off our Gmail conversation, I thought this week would be a fine time to think through some easy ways to create a more minimalist Android experience. That's the subject of this week's Platinum Power-Up — my weekly digest of next-level tips and app insight. We go over crafty hacks to optimize your home screen, simplify your phone's keyboard, and even simplify your notes. The result is a treat for your eyes, for one, and also a major upgrade for your efficiency.
Read the entire issue now and get extra knowledge in your inbox every Monday by signing up for a free trial of my premium resource package, Android Intelligence Platinum. You'll learn something new and useful every week — I promise.
❱❱ And Just For Funsies...
I'll admit it: I don't actually visit the Google home page all that often anymore. These days, I tend to start searches either via the box on my phone's home screen or by typing directly into my browser's address bar.
Right now, though, there's new reason to pull up Google.com on a daily basis: Google's in the midst of revisiting and reviving some of its best Google Doodle games — you know, those fun little activities you occasionally stumble onto by clicking on the Google logo.
A new classic Doodle will show up every day between now and the end of next week. Already, the featured games have included everything from a virtual theremin-playing challenge to a cricket match played by, erm, crickets.
You can check out each new classic Doodle game on the Google home page, from your phone or computer, and you can find the entire collection of featured games (up through today's) in the box at the top of this Google search page.
Cheerio, Compadre
Hey, happy May — and thanks for reading. We've got an interesting month ahead, with the first official Android 11 beta and other announcements that would have been connected to Google's big I/O convention, had it not been cancelled, likely arriving in the coming weeks. Busy times! And very welcome distractions from other matters, as far as I'm concerned.
Real quick: What'd you think of this issue? Take two seconds to pick a face to vote and let me know!
Have yourself some splendid springy days, and I'll see ya right back here next Friday.