Whoa — it's a miracle! I took a week off, and a major Google-related announcement didn't plop out while I was away.
I've got a bit of a record with that, as you may or may not recall. Last year, I took the week of Labor Day off, and Google ended up launching Android 10 later than anyone expected and in the midst of that otherwise-quiet-seeming U.S. holiday week. Back in 2013, I deliberately planned my wedding and honeymoon for July — right smack in the middle of the typically slow summer season, when tech news is usually at a crawl — and what happened? Google announced its first homegrown Moto X phone, a monumental moment in Android history, whilst I was galumphing around Europe and gorging myself on falafel. (Ah, simpler times.)
Well, I finally bucked the trend and managed to avoid triggering any major Android announcements during my much-needed summer sanity hiatus last week. I assume that means my next week off will be the week Google announces it's merging with Apple, Microsoft, and maybe also Nabisco. (Google Grahams, anyone?)
Man, it's good to be back. Let's get into it, shall we?
❱❱ The Big Idea
Google Voice Deserves Your Attention (Again)
➜ THE SHORT VERSION: A once-abandoned Google service is finding new life — and deserves a second look.
➜ KNOW MORE: Google Voice lets you free your phone number from your phone and turn the cloud into your switchboard. Now that Google's actively developing it again (and, most recently, making it play nicely with its Fi wireless service), it's well worth your while to watch. And maybe also to use.
➜ READ MORE: Here's my full column.
❱❱ 3 Things to Know This Week
1. Android 11's final form is coming into focus
➜ THE SHORT VERSION: Google launched its second-to-last beta version of Android 11 this week — a version in which the software's main elements are said to be final, with likely only minor tweaks remaining. The company also slipped up and briefly published a targeted release date of September 8th for the final Android 11 version (d'oh!).
➜ KNOW MORE: First, as for that apparent release date, September 8th is the Tuesday after Labor Day. That's exactly when Android 10 came out last year (remember?!), so Google aiming for that same timing isn't entirely surprising. As for Android 11 itself, there really isn't a heck of a lot that's shocking in this latest beta update, either; it's mostly about polish and stability, with things running noticeably smoother and many of the previous glitches being ironed out on my own Pixel 4. My favorite bit of new fine detail is probably the attention given to the system share interface, which is really shaping up to be one of Android 11's most significant subtle improvements. I often say it's the little things that have the biggest day-to-day, real-world impact, and that element is a perfect example.
➜ READ MORE: Google's official announcement has all the high points of the latest beta edition, while this visual gallery has a detailed look at some of the smaller changes. For a broader overview of Android 11 and what it's all about, look back to my columns on the software's most important additions and best hidden gems.
---
2. Android's Nearby Sharing system is creeping closer to its release
➜ THE SHORT VERSION: Google's long-overdue AirDrop-style system for wirelessly sharing photos, files, and even web pages between devices is finally making its way into the world and inching ever closer (and ever so slowly) to a state of widespread availability.
➜ KNOW MORE: We've been hearing about this thing for what feels like an eternity now, and quite frankly, it's about damn time we start to see it in action. For a company that's all about cross-platform compatibility, Google sure has taken a while to come up with a simple and effective way to do this (and no, the ill-fated Android Beam experiment of yesteryear doesn't qualify as either simple or effective, neat as it did always seem on the surface). What makes this especially exciting is the fact that the new Nearby Sharing system seems poised to work not just with Google devices, à la the Apple-lovers-only AirDrop standard, but with all Android phones and pretty much any computers running the Chrome browser, too. I can confirm that the option is live and working on my own Pixel 4 now, both in that aforementioned system share menu and as a Quick Settings tile. So with any luck, it won't be much longer before it's available everywhere.
➜ READ MORE: This demo shows off how the feature works on Android, while this article explores its still-in-progress Chrome implementation.
---
3. Microsoft's getting serious about its Android phone development
➜ THE SHORT VERSION: Microsoft has formed its own in-house software team devoted to Android software development and is reportedly positioning that same team to "handle post-launch software updates" that'll "add new features and experiences over time" for its upcoming Surface Duo devices.
➜ KNOW MORE: We still don't know exactly when Microsoft will release its first-ever homegrown Android phone — the dual-screen Surface Duo — but I'm increasingly excited to see what it'll bring into this friendly little ecosystem of ours. The phone's form is intriguing, for sure, but I'm honestly most interested to see if Microsoft can use it as a tool to shake up the sad state of Android upgrades. Microsoft, like Google, is in an unusual position in which selling hardware is less of a primary goal, in terms of actual revenue, and more of a way to draw folks further in to its main business of software and services. It's also the only Android-involved company other than Google with experience at actually providing timely software updates on a large scale (and a history of prioritizing that). This latest tidbit about the in-house team and its apparent priorities makes me even more hopeful about what could come of this.
➜ READ MORE: Windows Central has all the details of the development changes as well as a video showing off the current state of Microsoft's Android effort. For context on Microsoft's role within the ecosystem and the possibilities its presence presents, look back to my May column: "The Most Interesting Android Question of the Year."
Ready to level up your Android Intelligence?
If you like this newsletter, you'll love Android Intelligence Platinum — my next-level resource package for professionals, enthusiasts, and anyone who wants to make the most of their mobile technology.
Platinum members receive three ad-free, knowledge-boosting publications directly from me every week, including a weekly subject-specific guidebook that helps you get even more out of your favorite devices. Recent issues have revolved around creating a more minimalist and efficient environment on Android, making your phone's status bar meaningfully more useful, and enhancing Chrome on your computer with some off-the-beaten-path tweaks.
You'll gain access to a ton of other practical resources, too — including my private Q&A forum, where I'm always available to offer advice and answer your mobile-tech questions — and you'll support my work and help make this kind of independent journalism possible.
Come check it out for a few weeks on me:
❱❱ 3 Things to Try This Week
1. Find yourself an exceptional new Android widget
I know Apple just invented 'em and all, but Android has a whole world of worthwhile widgets that largely seem to go unnoticed. They've been around on the platform since its very start, in fact — way back in 2008 — and while they might not get the love and attention they once did, they still offer tons of potential for saving you time and making your phone easier to use.
I waded through widget after overlooked widget to find the best of the best — the most exceptional and effective home screen additions for increasing your efficiency and getting more done. And I came across some really good ones, including several you've probably never noticed.
One of my favorites comes from an app called Sectograph, which divides your day up into slices and gives you a really sharp visual overview of your agenda for each day: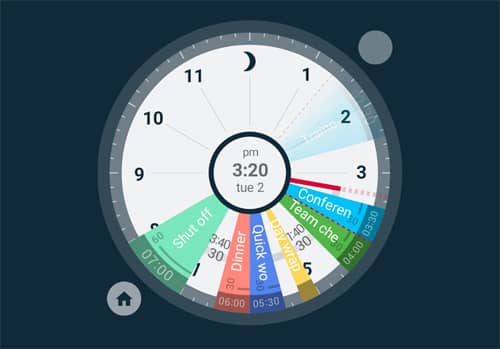 Another standout is from an app called Ruff, which puts a simple, scrollable scratchpad on your home screen and makes it easy as can be to jot stuff down (and then either save it or send it into any other app, if you want):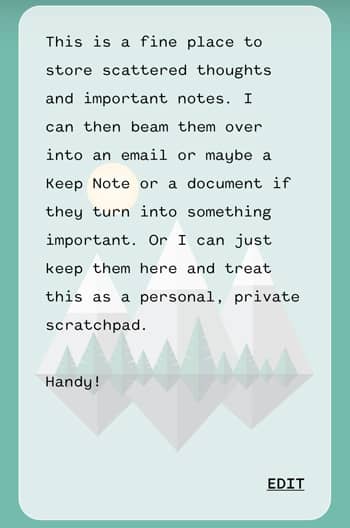 There are plenty more where those came from. Check out my complete collection for the full list, and see what seems useful to you.
---
2. Flip a switch to step up your smartphone security
After thinking through all that new Google Voice stuff this week, I decided to revisit my Google Fi FAQ — a massive guide I maintain on Google's wireless service.
Fi definitely doesn't make sense for everyone (and it's still available only in the U.S. as of now, unfortunately), but for certain types of phone users — myself included — it can save some serious money and also eliminate a lot of the downsides that come with more traditional phone plans. But beyond the basics, Fi has some pretty valuable feature-oriented perks that are surprisingly easy to miss.
One of the most valuable ones, if you ask me, is the service's always-on VPN option. VPN stands for virtual private network and is basically an extra layer of protection to secure your data connections and encrypt all the information you send and receive from your phone. And normally, you'd have to pay for a third-party app to handle that (and then keep the app installed and running at all times).
Well, if you've got Fi, you've got a better option: Just open up the Fi app on your phone, select the "Fi Network Tools" option toward the bottom of its main screen, and then activate the "Enhance network" toggle.
And that's it: You can now rest easy knowing all of your phone activity will always be safe from prying eyes — without any ongoing thought, cost, or effort.
---
3. Improve your Android battery life
If there's one subject that affects us all, it's battery life. No matter what brand or model of phone you're carrying, the last thing you want to see is that dreaded red icon indicating your power's running low. It's kind of like seeing the "low gas" light on your dashboard, only somehow maybe even more alarming.
Some phones are more effective than others at getting you through the day, but almost every phone could do at least a little bit better when it comes to the all-important area of stamina. So this week, I wanted to tackle the touchy topic of Android battery life. In the latest Platinum Power-Up, my weekly digest of next-level tips and app insight, I offer up a host of practical, no-nonsense tips for making the most of whatever power your phone provides — everything from smart shifts for your phone-charging strategy to specific apps and adjustments that'll improve your device's stamina.
Read the issue now and get extra knowledge in your inbox every Monday by signing up for a free trial of my premium resource package, Android Intelligence Platinum. You'll learn something new and useful every week — I promise.
❱❱ And Just For Funsies...
Sick of saying "Hey Google" to wake your favorite Assistant-connected device? Some enterprising Android users have uncovered unofficial alternative wake phrases that'll get Google's attention on your phone, speaker, or Smart Display while letting you look like a modern-day magician to your awestruck friends and family.
My pal Jared Newman put together a list of a few amusing possibilities, including "OK cool," "OK, who is reading," and — perhaps one of the most random ones of all — "cocaine noodles." (He also has some suggestions for alternative Alexa and Siri wake words, if you've got devices with either of those genies.)
I've seen and confirmed the effectiveness of several other fun "Hey Google" alternatives over the years. Some favorites (and every single one of these really does work):
Hey Boo-Boo. Grab yourself a picnic basket, and you'll basically be Yogi Bear.
Egg noodle. Be sure to emulate the same cadence you'd use with "Hey Google," then try not to think about how much you're craving egg noodles as a result.
OK girl. The more sass you put on it, the better.
OK Hugo. Bonus points if there's someone named Hugo in your house.
OK frugal. Or, if you're a Google history buff: OK Froogle.
I hate Google. Uh, Google? Might wanna look into this one.
And finally:
Cocaine poodle. Wait — you mean to tell me this isn't the phrase everyone uses to wake their devices?
See Ya Next Time
Hey, thanks for reading — and thanks for having me over to your inbox. It's always a treat to visit.
Real quick: What'd you think of this issue? Pick a face to vote and let me know!
Have yourself a splendid several days, and I'll see ya right back here before you know it.